The Startronix Wall Mounting Cabinets provides all round Cable access and protects Data cables and Patch cords.Removable sides, top and bottom panels facilitate 360 deg access for conveinient cable laying. Vented top cover provide for adequate ventilation. There are also pre punched fan patterns in the Top and Bottom panels for installation of cooling fans.
Height options 4U to 17U
Colour Options : RAL 7035 and RAL 9005 Structure Finish
Other options available on request.
An optional 100 mm rear section allows the front to swing out for easy access from the rear.
Series 79 For networking applications in IT environments. Welded Steel Construction. Top and Bottom Cable entry Perforations for mounting cooling fans Toughened Glass front door allows clear inspection of equipment status. Includes:Welded body , 2 Adjustable Mounting Rails at Front, 2 Fixed Rails at Rear punched in the Rack body,Front Door, Rear Cover and Mounting Hardware Kit. The Series 79 wall mounted enclosures for small networks are ideal for wiring closets and computer rooms with floor space constraints. The Series 79 mounts directly to building walls without occupying valuable or unavailable floor space. Typical applications include secure storage of hubs, routers, concentrators and patch panels.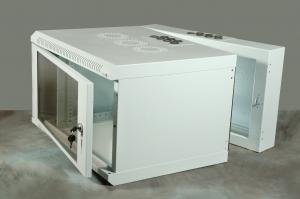 Series 89 Identical in construction to the series 79 Single Section Cabinet with an additional 100 mm rear section which allows the front section to swing out. This allows uninhibited access for mounting and wiring internal components