Rack enclosures with advanced cooling, power distribution, and cable management for server and networking applications in IT environments.
These Server Cabinets are specially designed housing the new generation of Servers that allow high density executions. These are adaptable and designed to house all major Servers in the market.They have a load capacity upto 1000 kgs. Other features of this are * Fully vented doors * Lockable side covers * Top cover with options to install cooling fans * Adjustable 19 inch rails different Server depths * In built Power Distribution Unit * Castors and levelling feet Various colour and depth options are available to suit individual needs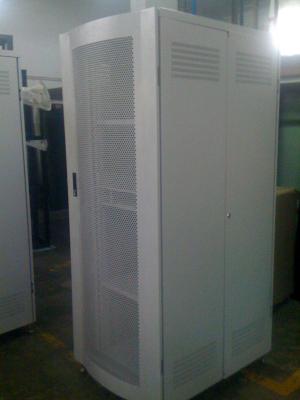 These are identical in construction to to the 600 width Racks except that they have Cable organizers of 100 mm width on either side of the 19 inch mount posts - both in the front as well as in the rear. They are versatile in the sense that these Racks can be used either for mounting servers or for network components. Height options are from 22U onwards upto 45U. Door options are both perforated front and rear doors or front glass door on steel frame and rear perforated door. A host of Rack accessories are available which enhances its application. Can be supplied in Flat Packs for easy transportation to site and easy assembly at site.
The Series 09, Floor Standing Racks are made out of heavy duty extruded aluminium sections to accommodate both Networking and Server Peripherals. Available in heights from 22U to 44U and depths 600, 800, 1000 and 1200, these can be used for a variety of applications. The Aluminium frame sections combine aesthetics with strength. They can be used in conjunction with the entire range of Rack accessories. Typically they come with a glass front door and an all steel rear door. Other door options like, perforated doors are also available. They are flat packed for site assembly.